What is UNESCO Global Geopark?
UNESCO Global Geopark are single, unified geographical areas where sites and landscapes of international geological significance are managed with a holistic concept of protection, education and sustainable development.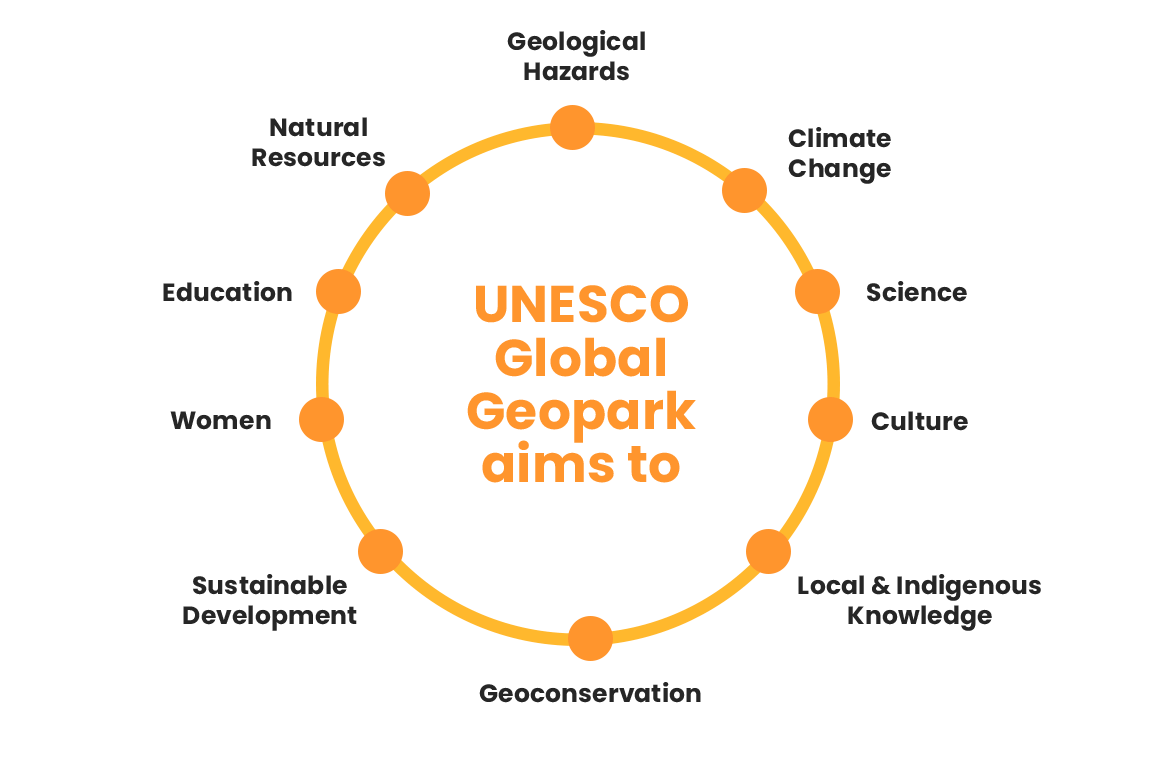 During the 38th UNESCO General Conference on the 17th November 2015, the 195 Member States of UNESCO ratified the creation of the new label, UNESCO Global Geoparks. The recognition expresses the importance of managing outstanding geological sites and landscapes in a holistic manner by the governmental bodies.
UNESCO Global Geopark
At present, there are 177 UNESCO Global Geoparks in 46 countries. UNESCO's Executive Board has approved the designation of 8 new UNESCO Global Geoparks.
There are 8 most recent designated new Global Geopark as of April 2022
Seridó UNESCO Global Geopark, Brazil
Southern Canyons Pathways UNESCO Global Geopark, Brazil
Salpausselkä UNESCO Global Geopark, Finland
Ries UNESCO Global Geopark, Germany
Kefalonia-Ithaca UNESCO Global Geopark, Greece
Mëllerdall UNESCO Global Geopark, Luxembourg
Buzău Land UNESCO Global Geopark, Romania
Platåbergens UNESCO Global Geopark, Sweden
Aspiring Kinabalu Geopark
Watch a short video introduction on the Aspiring Kinabalu Geopark.
Aspiring Kinabalu UNESCO Global Geoparks
The aspiring Kinabalu UNESCO Global Geopark (aKUGGp) is located in the north-western part of Sabah, Malaysia. The area covers three districts: Kota Belud, Kota Marudu and part of Ranau. The aspiring Kinabalu UNESCO Global Geopark covers an area of 4,750 km2. It covers the entire district of Kota Marudu (1,775 km2), Kota Belud (1,386.52 km2) and part of Ranau district (1,588 km2).
Read More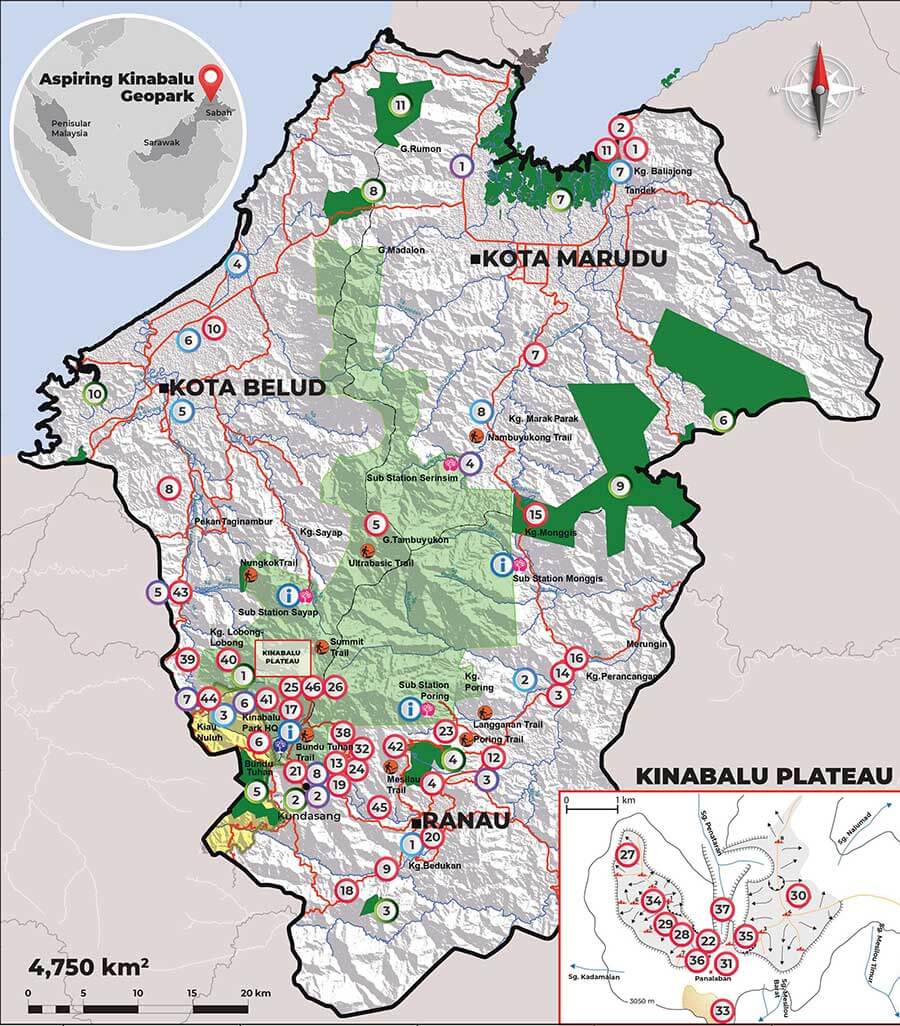 Main Geological Highlight & Other Elements
Geologically, the aspiring geopark contains the youngest granitoid intrusion in Southeast Asia (7-8 million years old) and an ophiolite sequence representing an ancient oceanic crust (130 million years old) which records the subducted Proto-South China Sea lithosphere. The intrusion has brought up an area over 4000 metres above the present-day sea level, creating an outstanding mountainous landscape. Glacial process on top of Mount Kinabalu during the last Ice Age created the most spectacular glacial landscape in the tropics. At the foothills of Mount Kinabalu, on the Pinousuk Plain forms the most extensive tilloid deposits in Southeast Asia as young as 10,000 years old. Presently, 46 established geosites constitute some of the geological heritage of Kinabalu, and they are what make the regional geological and landscape history unique.
Read More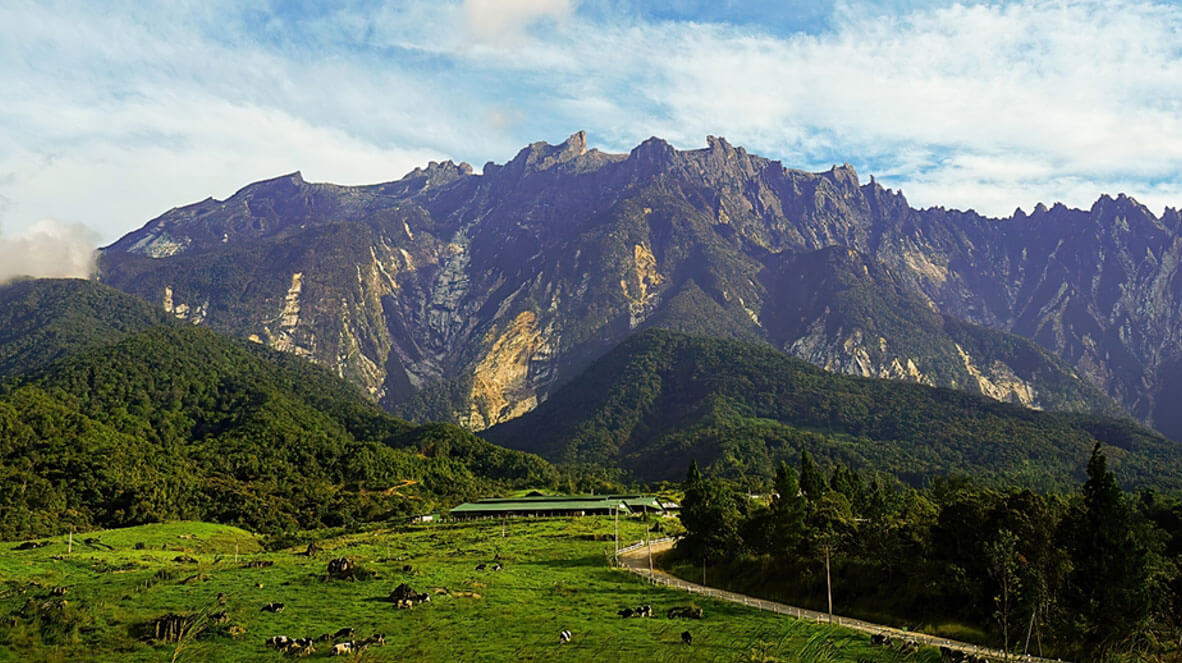 National Geopark
There are 8 National Geopark established in Malaysia and more still in development. To date only Langkawi Geopark has become a UNESCO Global Geopark.
List of recognized National Geopark in Malaysia
Langkawi UNESCO Global Geopark

2007

Lembah Kinta Geopark

25 October 2018

Jerai Geopark

24 November 2018

Mersing Geopark

2019

Kinabalu Geopark

18 March 2020

Lenggong Geopark

16 December 2021

Labuan Geopark

16 December 2021

Sarawak Delta Geopark

20 June 2022
Activities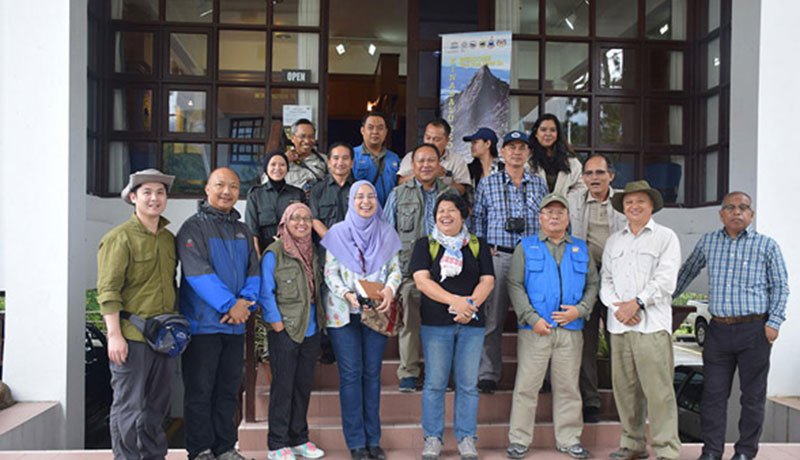 26th February 2019 – Sabah's National Geopark Assessment was held from 23rd to 26th February 2019 for a 3 day and 2-night meeting and site visit, participated by 16 panels. The assessment was led by Mr. Ludi Apin of Sabah Parks with Dr. Tanot Unjah and Dr. Shahrina Abdul Halim as the evaluators. Joining the assessment ... Read Brochure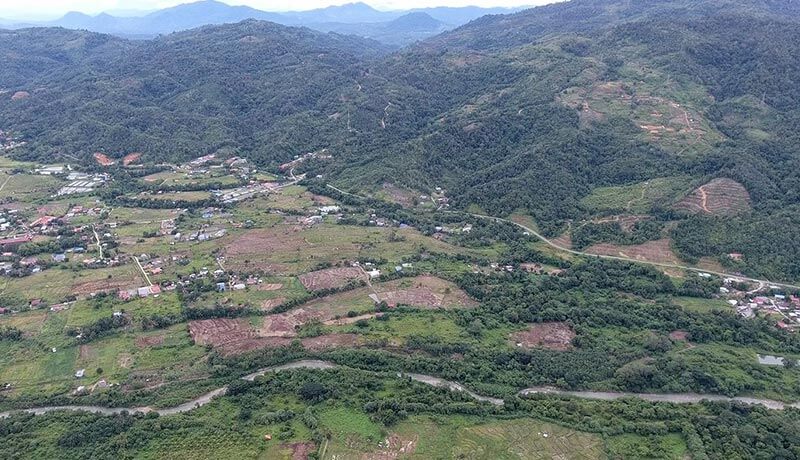 One of the components under the Kinabalu Global GeoPark Program, is the Empowerment of Terrestrial Communities involving the districts of Kota Belud, Ranau and Kota Marudu. Terrestrial Community Empowerment under the Kinabalu Global Geopark Program needs to be implemented for the purpose of understanding community leaders and government officials on the Concepts, Attractions and Benefits of recognizing Kinabalu as a Global Geopark.